As some of you know, yesterday my husband and I took our kids to Darien Lake for some summer fun! We were given the tickets in exchange for a review. I only do reviews for places or items that will be beneficial to my readers as well. I also give a completely honest review and am not influenced by the fact that I was given something free by the company. With that being said, I wrote some key things I noticed at Darien Lake that I thought might be helpful for families visiting.
First: Parking- is an extra $10, just so you are prepared. I didn't realize parking was extra. Also I strongly suggest seeing if there is a concert going on the day that you go. We didn't, and we paid the price. Parking was insane and we had to park really far away.
Second: Lockers- When you first enter park, it's a little overwhelming. A ton to look at and navigate, but we knew the first thing we wanted to do was get rid of our bags! So we made our way to the lockers. We ended up choosing the lockers near the water park because we figured we would start there since it was so hot out that day. Unfortunately we chose a busy day to go, so by the time we got there, there were no large lockers left. They have three different sizes medium, large and extra large. A medium locker was $10, large was $15 and extra large was $20. We ended up needing 2 medium lockers, which was kind of a bummer but to us the $20 was well worth not going back and forth to the car (which is an option if you're up to it) or carrying the bags. The best part about the lockers were you don't have to carry a key! During check in (which is digital) you pick a passcode! And then you just type that into the key pad on the locker. Pretty cool in my opinion! Much better than having to carry around a key or quarters like some of the other amusement parks we've been to. The only thing we wish we would have done differently was put our stuff at the "Midway Lockers" instead. We didn't remember there were other lockers in the middle of the park. It was quite a hike back to the water park lockers to get stuff like waters each time. So my suggestion, either buy two medium lockers (one at the midway with waters and food and stuff and one at the water park for your water stuff) or just do one locker at the midway one but you have to be willing to walk in the Main park with your bathing suit on (which I was not haha.)
Third: Drinks/food- BRING your own waters!!! They were so expensive there (on average $4 a bottle.) I was so glad we brought a ton with us!! We also brought lunch and then bought dinner and dessert. We ate at Anchor bar there and they had awesome wings, and over all their prices were not too bad for being an amusement park. As for dessert we got fried dough and omg let me just say… Sooooo worth the $7!!! A) it was HUGE!! And B) it was sooooo good!!! Its a family favorite for sure.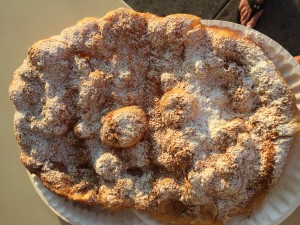 Fourth: Rides/games- The rides were all great. We really had a wonderful time. The lines were pretty busy mid day, but if you are able to stay past 6, I strongly suggest it. The lines got much shorter at night. Both my sons were tall enough to go on all the rides this year which was the first time ever! There is however a whole section for little kids (I would say ages 2-6)  if you have little ones. Our favorite rides were the scrambler, the swings, the predator, and the pirate ship. Games were on the pricey side, but we did let the boys play 2 each and my youngest son ended up winning a little stuffed shark (Yay! Another stuffed animal, lol). There was so many other things to do there that it wasn't really necessary.
Fifth: Water park- Thank God for the water park! It was so hot there, so it was so refreshing. Here are a few tips: 1) you can wear your flip flops or water shoes out into the water section and you just have to find a chair (they have a ton of loungers chairs for you to put your stuff on) so you can leave you shoes and towels there. I don't suggest bringing any valuables tho, unless you don't plan to leave your chair. As for the water rides, they have a huge water area for kids of all ages. There's little slides, pirate ships, floating treasure chests and a huge house type thing that the kids can climb in and that leads to a little bit bigger water slides. I loved this area because the kids could just have fun in the water and there were no lines. Then down past the Pirates cove part is the big water slides and lazy river. We went on the lazy river as a family which was fun but due to very long lines we decided to skip the other water slides. We honestly didnt love the water park part this year due to the crowds.
That pretty much sums up our experience. We had an amazing day and the boys said it was one of their favorite places ever! A lot of awesome memories were made that day and we definitely plan to go back! It was well worth the drive!! I highly recommend Darien Lake if you are visiting New York this summer or fall!